Posted by Ronna Moore on 11th Jun 2018
Do you look to the world's most famous gardens as inspiration for your own? It's hard to ignore some of the more aesthetically pleasing or functional garden landscapes around the world. From Japan to Denmark, elaborate and intricately developed gardens are a mainstay; a staple for both tourists, locals, and garden enthusiasts alike.
The good news for fairy gardeners is if you're unsure where to go next with your design plans, these famous gardens are a great source of inspiration. Gardeners can choose from an array of fairy houses and accessories to create their own personal display, but a little inspiration from world-renown designs doesn't hurt either.
Let's take a closer look at five famous garden landscapes and see how we can use cottages, fairies and gnomes, and plants to recreate the spirit of their timeless looks.
The Garden of Cosmic Speculation, Scotland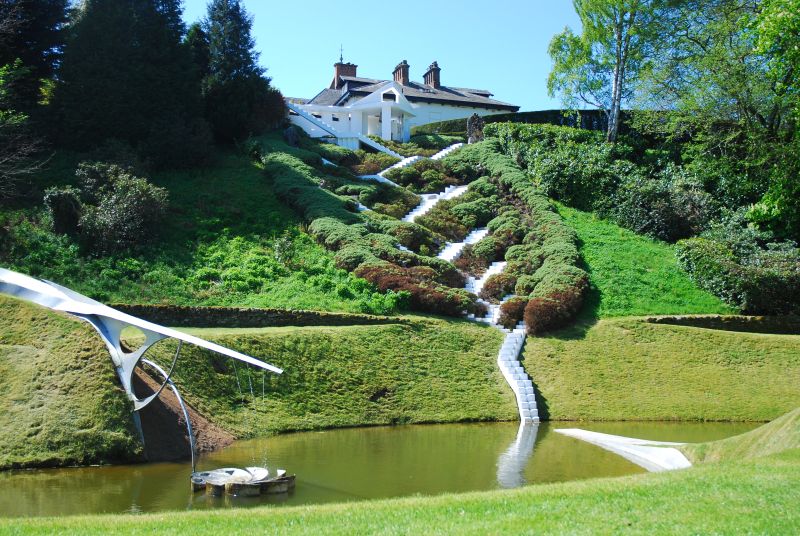 The Garden of Cosmic Speculation is a sight to see -- and it's only open one day a year. It takes it inspiration from math and science, using elaborate geometrical and mathematical designs to make up the one-of-a-kind landscape. Its design is meant to evoke thought, challenge perceptions, and give visitors pause about the nature of reality.
It is located at Portrack House near Dumfries in Scotland, and was created by Charles Jencks and his late wife Maggie Keswick in 1989. Since then, the garden has been pulling hundreds of visitors one day a year.
Want the look?
As The Garden of Cosmic Speculation boasts some beautiful geometric shapes, why not bring that same feeling to your space? This miniature checkered bridge is a stark pattern and makes a statement in any garden.
Versailles, France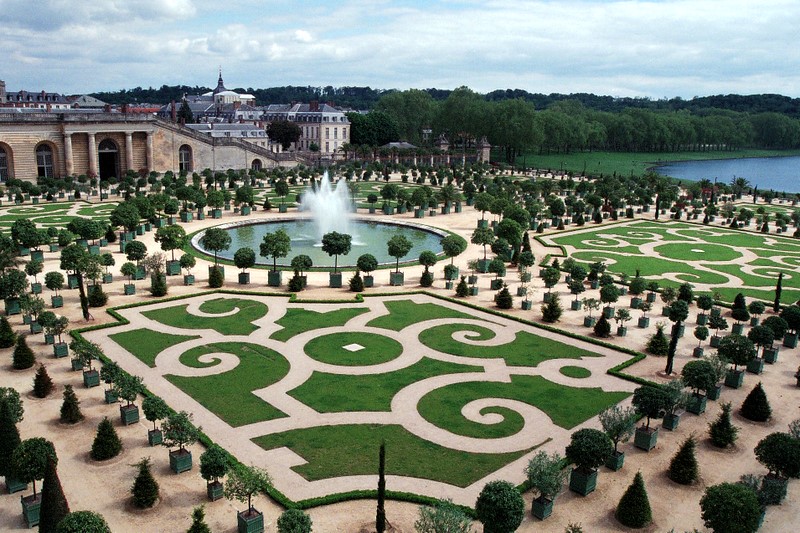 Versailles, the majestic garden located in the Palace of Versailles in France, was designed by Andre Le Notre and built for Louis XIV. It's comprised of gorgeous flower beds, the Orangerie, fountains, and the Canal. Similar to The Garden of Cosmic Speculation, Versailles is a geometrical masterpiece and is arguably one of the most famous gardens in the world.
Prior to this garden being created, the land was primarily woods, marshes, and grasslands. A massive amount of earth was shifted to lay out the design, using workers and laborers from across France. If the garden isn't enough of a sight, it also boasts incredible views of the surrounding area.
Want the look?
Versailles was a palace fit for a king, so why not create a garden fit for a princess? Fairy Princess Josie is a miniature scaled to be in proportion with smaller fairy houses. We recommend setting her up with the Fiddlehead Woodland Tea Cup Planter.
Butchart Gardens, Canada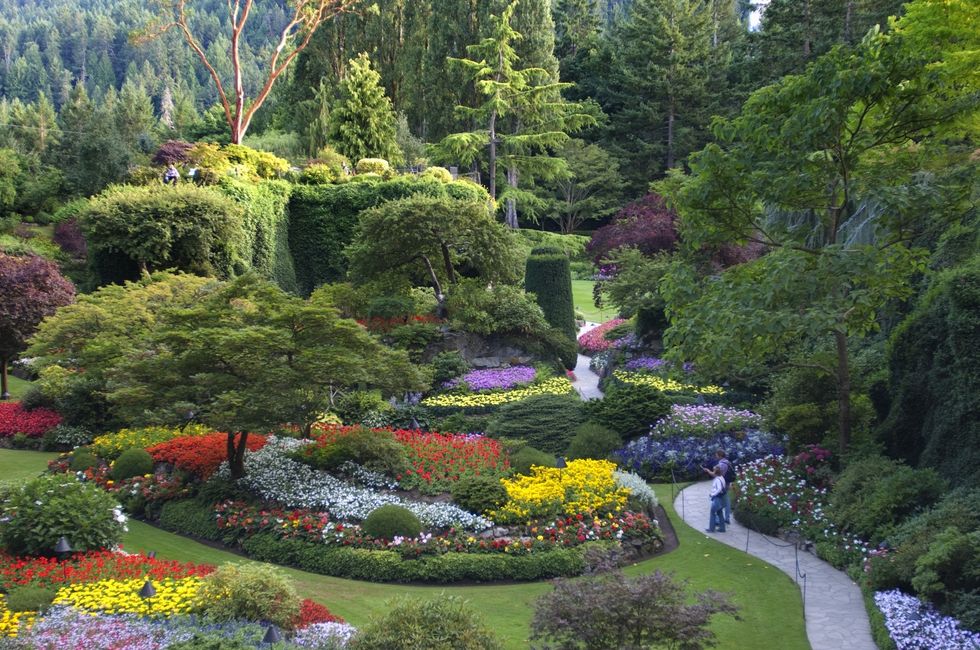 Located in Victoria, British Columbia, Canada's scenic Western province, Butchart Gardens is an organic mish-mash of greenspace. Featuring an eclectic design that pairs waterfalls, scenic ponds, and winding paths, this garden is something out of a fairy tale. Because parts of British Columbia are classified as rainforest territory, Butchart Gardens is overly green and lush -- a perfect destination for any gardener, new or old.
Before this garden took shape into what it is today, the land it resides on was originally a quarry. Jennie and Robert Butchart created several gardens, such as a Japanese, Italian, and rose garden, between 1906 and 1929.
Want the look?
We recommend this beautiful fairy making friends with a squirrel. It highlights the same sense of otherworldly whimsy found in Butchart Gardens, bringing that fairy tale inspiration to your personal garden.
Minneapolis Sculpture Garden, USA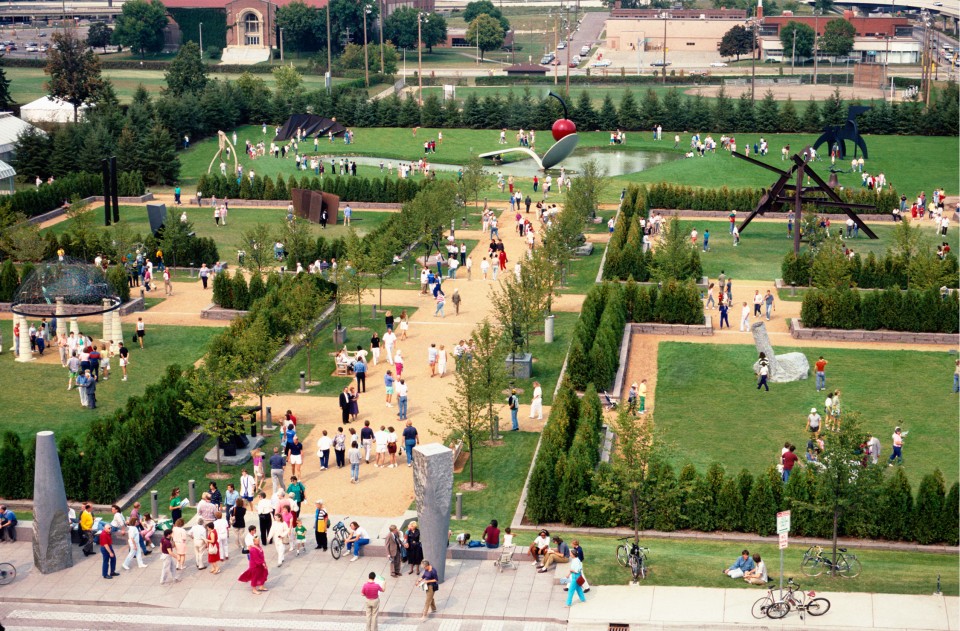 A visit to Minneapolis isn't the same without a stop at the Minneapolis Sculpture Garden. In fact, the garden's main attraction, the Spoonbridge and Cherry, has become something of an icon in Minnesota.
The garden opened officially in 1988 and contains pieces from husband-and-wife collaborators, Cleas Oldenburg and Coosje van Bruggen. When they created the large utensil and fountain for the park, it became the highlight, drawing in crowds from far away to come see its comical size. The garden is also home to several other sculptures that are meant to challenge thought and amuse at the same time.
Want the look?
This hand-sculpted toad house is quirky and beautiful enough to be a feature in the Minneapolis Sculpture Garden itself.
Keukenhof Gardens, Netherlands
If bright, vibrant flowers make up the majority of your garden, then you'd love a visit to the beautiful Keukenhof Gardens in Netherland. Reds and yellows and blues decorate this garden from end to end, making them the true standout and turning this vast landscape into a true work of art.
As one of the most visited destinations in the Netherlands, the garden hosts approximately 7 million tulips, including the gorgeous Russian black tulip Baba Yaga. From tulip varieties to serene walking paths, this is one garden that is a bold departure from your average adventure.
Want the look?
Short of bringing in a whole set of tulips, why not experiment with flower picks when it comes to evoking the spirit of Keukenhof Gardens? These miniature flower picks are trendy and will give any garden that extra pop.